Sennelier Oil Pastels - Set of 24 in Black Wooden Box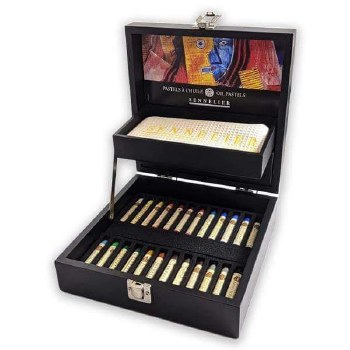 Sennelier
Sennelier Oil Pastels - Set of 24 in Black Wooden Box
3046450770565
€79.95 €71.95
Creamy, lightfast, opaque, and vibrant, Sennelier Oil Pastels have long set the standard for the medium. They may be thinned with turpentine or mineral spirits to make washes, or blended with the Transparent Blending Medium pastel stick for a wide array of effects. They are the ideal medium for artists on the go.

These oil pastels are presented in a black wooden box
Set includes:
White
Lemon Yellow
Yellow Deep
Mandarin
Permanent Intense Red
Ruby Red
Geranium Lake Light
Celestial Blue
Azure Blue
Pale Blue
Delft Blue
French Ultramarine Blue
Celadon Green
Cinnabar Green Yellow
Green Medium
Pine Green
Yellow Ochre
Red Brown
Brown Madder
Raw Umber
Burnt Umber
Grey Green
Reddish Brown Grey
Black

A Graphite Stick & an Embroidered Cloth.