Derwent Coloursoft Skintones 6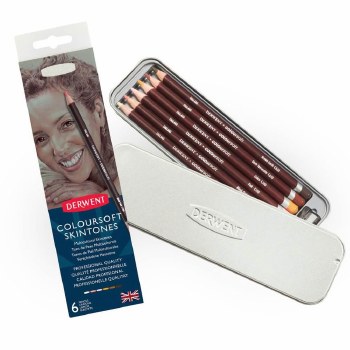 Derwent
Derwent Coloursoft Skintones 6
5028252101943
€12.95 €11.70
Apply bold, vibrant colour to your art with the highly versatile Derwent Coloursoft Pencils that feature a soft, velvety texture. These pencils are highly blendable allowing for an infinite spectrum of rich colour.

Derwent Coloursoft can be used for a wide range of drawing styles, from bold landscapes to detailed illustrations, portraiture and fashion design
Ultra soft, velvety texture is perfect for mixing and blending. This softness allows for dense application of colour.
Rapid application of colour due to soft core
Derwent Coloursoft Pencils offer the boldest colour range in the Derwent colour pencil collection. Pigments are very vibrant with high colour saturation.
Pencils have a wide 4mm core.