Copic Ciao Set A - 72 Markers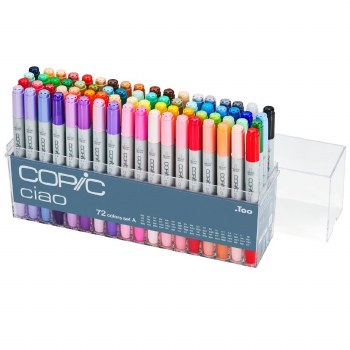 Copic
Copic Ciao Set A - 72 Markers
4511338063293
€338.95 €322.00
This set contains the following colors: Y00, Y02, Y06, Y08, Y17, YR02, YR00, YR20, YR04, YR07, R20, R02, R32, R27, R29, R59, RV29, RV10, RV02, RV21, RV04, RV42, RV23, V12, V04, V17, V09, BV00, BV02, BV04, BV08, B00, B32, B23, B24, B05, B29, B39, BG01, BG10, BG23, BG15, BG09, BG93, G00, G02, G21, G05, G17, G99, YG11, YG41, YG03, YG06, YG67, E00, E51, E21, E02, E33, E35, E37, E04, E29, E47, E08, C1, C3, C5, C7, 100, 0 (colourless blender)

Copic Ciao can be refilled with Copic VARIOUS Ink refill bottles, by pulling out the chisel nib and filling from the bottle.

Twin-tip - chisel and creative brush tip.

COPIC Ciao Markers are fast-drying, low-odour alcohol based markers.
With 180 high quality vibrant colours to choose from, the easy to blend markers are the perfect choice for professionals, students and art enthusiasts alike. Ideal for everything from sketching to storyboarding, COPIC are a favourite of Anime, Manga and Visual artists, as well as Animators.

These refillable markers are also industry staples for Architects, Costume designers, Fashion designers, Furniture designers, Graphic designers, Interior designers, Landscape designers and Product designers.

The dual-tipped markers offer versatility with the medium broad nib and fluid, creative brush tip. Layering and blending becomes smooth and effortless with the high quality, bleed-proof inks which do not oversaturate paper.

Available individually and in selected sets.