PC-17K Collection 10s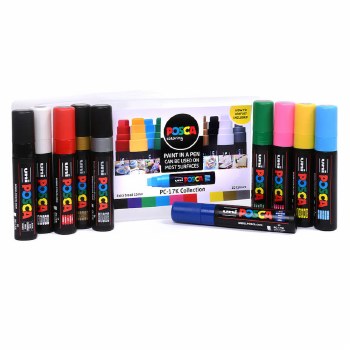 Uni-Posca
PC-17K Collection 10s
5012788006889
€83.35 €74.99
POSCA paint markers are an excellent multi-surface, creative pen. The uni POSCA extra broad chisel tip Paint marker contains water-based pigment ink which is lightfast, water-resistant, and will write on almost any surface.
The PC-17K extra-broad, 17mm chisel tip is the go-to maker for large-scale artwork. Its XL size tip produces a strong, confident line and vivid colour.

Set of 10 inclues one of each of the following colours: Black, Dark Blue, Dark Green, Gold, Light Blue, Pink, Red, Silver, White.